At Linguage Japanese Language School, we will guide you in your job hunting journey.
We help make our student's dream of working in Japan a reality.
As part of Linguage Japanese Language School's job hunting support, we have developed a curriculum which includes beginner-intermediate level Business Japanese and job hunting classes.
Special counseling done by our career consultant (national certified) is exclusive to Linguage Japanese Language School students.
Job Hunting Support
We help our students acquire the necessary skills needed to find employment in Japan at Linguage Japanese Language School.
Job Hunting Classes
As part of the curriculum, we conduct regular job hunting classes in addition to our Business Japanese classes.
Class Contents: Self Analysis, Resume, Job Hunting E-mail, Self-PR, Company Research, Motivation, Japanese Corporate Culture, etc.
Individual Counseling
Career Counseling
Sharing of Job Postings
Resume, Work History, Application Form Correction
Interview Practice
Personal Grooming
Additional Job Hunting Support
InternshipZenken Headquarters Co., Ltd., the parent company of Linguage Japanese Language School, may offer a possible in-house internship depending on one's major and Japanese level.
This is a valuable opportunity to experience what it's like to be inside a Japanese company before actually working full time.
Interview ActivitiesWe interview Linguage almuni currently working in Japan.
Linguage almuni, who have gained a variety of experiences, can offer valuable advice to current students.
Introduction of HR CompanyWe introduce an excellent HR company specialized in dealing with international students, therefore expanding the possiblities of finding employment.
Career Consultamt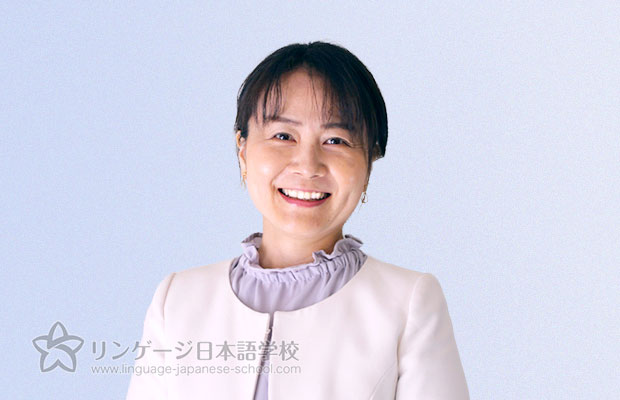 Ms. Etsuko Okada
Seminars handled by our career consultant (Ms. Etsuko Okada)
"Job Hunting for Foreigners"
First Step to Job Hunting
Self Evaluation Seminar: Discover Your Core Values
Resume Writing Seminar: What is Self-PR for Companies?
"Job Hunting Courses"
We hold job hunting related courses at universities throughout Japan.
"Cross-Cultural Understanding Training"
We offer lectures for university students on how to understand Japanese business culture so they can work smoothly in the workplace. Also, we conduct trainings for companies dedicated to creating an engaging work enviroment for their foreign employees.